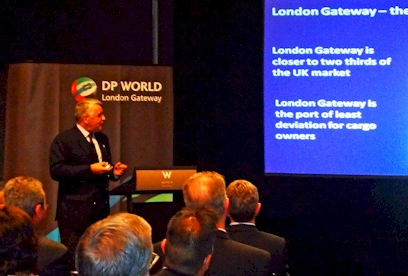 DP World London Gateway Rides the Wave on the Gold CoastDesigned and built to reduce supply chain costs, the London Gateway port will facilitate new routing opportunities between the USA and UK and is integrated with Europe's largest logistics park at 9.25 million sq ft.

Hoboken, New Jersey, 19th June 2013 -- DP World's London Gateway, the UK's new deep-sea port and Europe's largest logistics park opening Q4 this year, was well received at a reception last night at the luxury W Hotel in Hoboken, New Jersey. This is the first of a series of insight events across the USA this week.

Exporters, importers and freight forwarders, attended the insightful presentation led by commercial director, London Gateway, Charles Meaby who explained how London Gateway will add value to Anglo-American trade and Peter Ward, supply chain commercial manager, presented on how companies can make significant savings on their landslide costs, making their supply chains more agile and profitable for today's commercial world. Leading companies like Marks & Spencer, who last week announced they are building a distribution centre at London Gateway's logistics park, have realised the savings UK's new global trading hub offers. Alan Stewart, CFO, Marks & Spencer, said: "We will reduce the lead times between goods landing in the UK and getting into our stores, in front of our customers, from about three weeks to three days."

At the Hoboken reception, significant interest and a lively debate highlighted how London Gateway's unique tri-modal logistics hub, combining the UK's new deep-water container port and Europe's largest logistics park will provide US companies with new logistic solutions. Martin Karczewski, operations director at Laufer Group, said: "London Gateway is a no-brainer and DP World's significant investment makes perfect sense".

A spokesman on behalf of one of the leading global forwarders remarked that: "London Gateway is bucking the trend. As ports around the world move further away from manufacturing and consumer markets in search of deeper-water for bigger ships, London Gateway is mitigating longer supply chains by locating the port and logistics park closer to the UK's main markets".

VP business development for Charles Kendall Freight, Don Quigley, also acknowledged the potential savings in landside costs due to London Gateway's superior location.

Designed and built to reduce supply chain costs, the London Gateway port will facilitate new routing opportunities between the USA and UK and is integrated with Europe's largest logistics park at 9.25 million sq ft. The London Gateway's team will move on to Chicago to address EyeforTransport's 3pl Summit and Supply Chain Officer Forum on Wednesday.

About London Gateway

Opening in Q4 2013, London Gateway will be the UK's first 21st Century major deep-sea container port and Europe's largest logistics park. Owned and operated by DP World and situated on the north bank of the River Thames, London Gateway will provide unrivalled deep-sea shipping access to the largest consumer markets in the UK. The port's location, with its superior operational systems and service, will ensure ships load and unload as fast as possible, making London Gateway a world class asset for the UK. www.LondonGateway.com

About DP World

DP World has a portfolio of more than 65 marine terminals across six continents(1), including new developments underway in India, Africa, Europe, South America and the Middle East.

Container handling is the company's core business and generates around 80% of its revenue. In 2012, DP World handled more than 56 million TEU (twenty-foot equivalent container units). With its committed pipeline of developments and expansions, capacity is expected to rise to more than 100 million TEU by 2020, in line with market demand.

DP World has a dedicated, experienced and professional team of 28,000 people serving its customers around the world, and the company constantly invests in terminal infrastructure, facilities and people to provide quality services today and tomorrow, when and where customers need them. In taking this customer-centric approach, DP World is building on the established relationships and superior level of service demonstrated at its flagship Jebel Ali facility in Dubai, which has been voted "Best Seaport in the Middle East" for 19 consecutive years. www.dpworld.com
(1) As of June 2013.

Submitted by: LogisticsWorld
news@logisticsworld.com, 6/22/2013 1:59:12 PM
LogisticsWorld

DIRECTORY
Transportation
Logistics
Freight
Employment
Trucking
Software
Consulting
Warehousing
Supply Chain
Import / Export
Technology
Manufacturing
Services
Travel / Tourism
Trade / Finance
Business / Mgmt
Educational
Govt / Military
International
TOOLS

Airlines
Airports / Airport Codes
Seaports / Seaport Codes
U.S. Customs Brokers
Transport / Logistics Acronyms
NAICS and SIC Codes
Harmonized Tariff Schedule
Country Profiles
World Time Zones
World Time Clock
ISO 3166 Country Codes
ISO 4217 Currency Codes
FIPS Country Codes
U.S. Government Links
Software Links
Lean, Six Sigma Links
Travel Destinations
Hot Links
Books and Publications
Weights and Measures
more tools...
GEOSEARCH
Asia | Africa | Europe | Oceania
North America | South America